Finally, the first autumn/fall pattern of 2021! Have you been waiting impatiently for the change in season or trying to soak up the last of summer? Either way, the Marlberry moss stitch beanie crochet pattern is a quick and easy project to make the transition.
Worked bottom up and in the round in sizes Newborn to Adult L, the moss stitch is so quick to work up and very beginner friendly. It looks good in single colour, stripes or colour blocks, and is a good way to use up leftover yarn scraps like I have in the adult version if you don't have enough for a scrap blanket.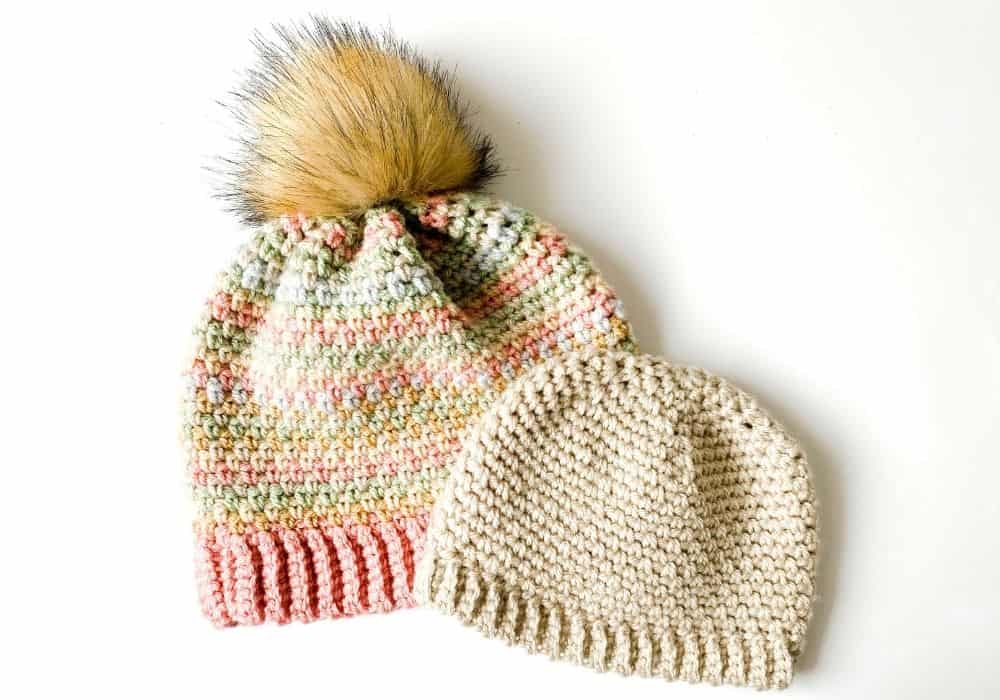 The baby and child sizes have a shorter brim, and the moss stitch is quite light so they're not too bulky or thick in the cute smaller sizes. I love the neutrals, the 0-3m pictured below is in Stylecraft Special Aran in Parchment.
This post contains affiliate links, meaning I may make a commission if you purchase through a link, at no additional cost to you.
More Free Crochet Patterns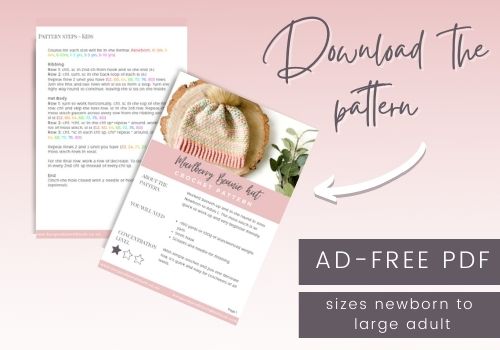 This post is a free crochet pattern for the moss stitch beanie in adult size medium, with all other sizes from newborn to large adult in the downloadable ad-free PDF below.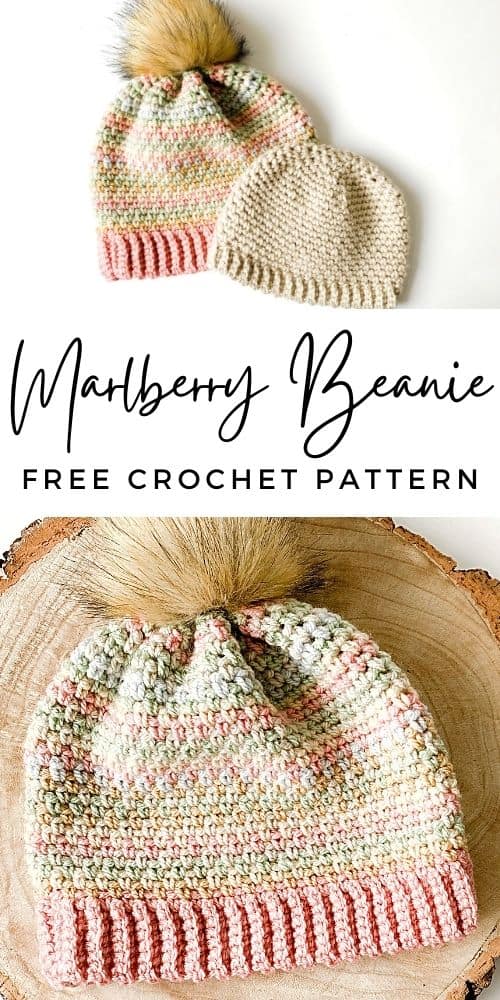 Moss Stitch Beanie Crochet Pattern
What you'll need to crochet this hat pattern:
<160 yards or 100g of aran/worsted weight yarn
5mm hook
Scissors and needle for finishing
For the striped adult version I used Paintbox Simply Aran, using leftovers from my crochet temperature blanket.
The baby version used Stylecraft Special Aran.
Other tester yarns included:
Caron Simply Soft
King Cole Drifter Aran
Concentration Level
Simple stitches and just one decrease row, it's quick and easy for crocheters of all levels.
Stitch Terms & Abbreviations
Pattern is written in US terms
Chain: ch
Slip Stitch: sl st
Stitch(es): st(s)
Skip: sk
Single Crochet: sc
Special Stitches
Moss Stitch:
Steps are given for each row in the pattern, though the moss stitch consists of:
Row 1 – *ch1, sc* repeat
Row 2 – *ch1 over each sc, sc in each ch1 sp* repeat
Repeat Row 2
Gauge
Ribbed brim: 7 rows of 7 sc blo in 1.5″ x 1.5″
Notes
Starting chains do not count as a stitch
Stitch counts will be in brackets at the end of each row
Pattern is worked on the right side with no turns
The ribbed brim is done first, with the body of the hat worked bottom up from there
Free Moss Stitch Beanie Crochet Pattern
The pattern below is for adult size medium.
Ribbing
Row 1: ch8, sc in 2nd ch from hook and to the end (7)
Row 2: ch1, turn, sc in the back loop of each st (7)
Repeat Row 2 until you have 90 rows.
Join the first and last rows with sl sts to form a loop. Turn the right way round to continue, leaving the sl sts on the inside.
Hat Body
Row 1: turn to work horizontally, ch1, sc in the top of the first row, ch1 and skip the next row, sc in the 3rd row. Repeat this moss stitch pattern across every row from the ribbing section, sl st (90)
Row 2: ch1, *ch1, sc in the ch1 sp* repeat * around, working a row of moss stitch, sl st (90)
Row 3: ch1, *sc in each ch1 sp, ch1* repeat * around, sl st (90)
Repeat Rows 2 and 3 until you have 37 moss stitch rows in total.
For the final row, work a row of moss stitch decrease. To do this, work a sc in every 2nd ch1 sp instead of every ch1 sp.
End
Cinch the hole closed with a needle or hook and attach pom (optional).
Need the moss stitch beanie crochet pattern in more sizes? Get the ad-free PDF with sizes newborn, 0-3m, 3-6m, 6-12m, 1-3 yrs, 3-5 yrs, 5-10 yrs, and small/medium/large adult below!