As we move through December, many start to plan for a crochet temperature blanket to start in January. It's so exciting! It doesn't seem like two minutes since I was planning mine at the end of last year, deciding what colours and what stitch to use, and here we are with just a few rows left to do.
Every time I post progress pics of mine on IG (you can follow me here) it gets so much love and so many questions on how i'm making mine, so i'm putting everything together here in a post so you can plan your own and use mine for inspiration if you choose to.
I'll tell you what colours I chose, how the temperatures match to each colour, explain how i'm not doing 1 row per day but 1 every 2 days instead, and how many chains I started with.
This post contains affiliate links, meaning I may make a commission if you purchase through a link, at no additional cost to you.
Looking ahead to spring? Check out these 12 free spring crochet patterns.
Choosing your yarn
There are so many ways to make a temperature blanket and the colour combinations are endless. It took me a reeeaally long time to find a palette I was happy with but it was totally worth it in the end. The traditional temp blanket is made with rainbow yarn that reflects the actual temperatures, hot to cold. I love seeing these but rainbow decor is really not my thing so I knew I wanted a more muted palette that i'd love having out in the house. Rainbows, neutrals, pastel, vintage tones – pick your fave!
It's nice to keep them all within the same brand/range if you can for consistency of texture and weight but don't worry too much about that, I took mine from a mix of Paintbox and Stylecraft. I even changed my mind a few times when the colours that arrived didn't actually look like the photo. You're going to be working on this for a whole year so it's important you love it! My full palette is below.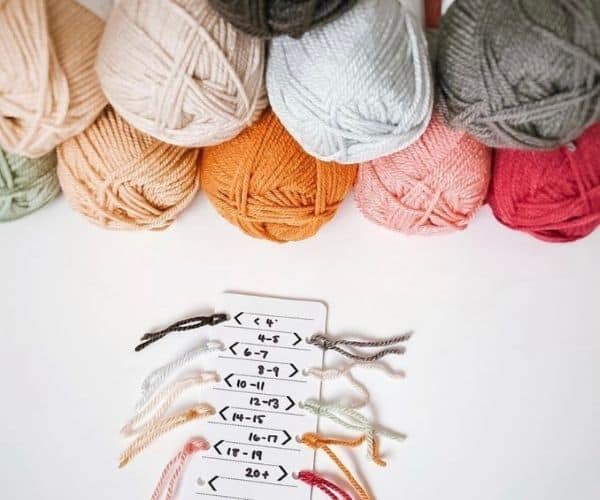 Full Yarn List
The yarn palette below is available worldwide from LoveCrafts.
Paintbox Yarns Simply Aran
Vanilla Cream
Spearmint Green
Blush Pink
Granite Grey
Slate Grey
Stormy Grey
Light Caramel
Stylecraft Special Aran
Pomegranate
Gold
Parchment
More Free Crochet Patterns
How much yarn is needed for a crochet temperature blanket?
Most blankets will take 10-15 skeins depending on how many colours you use and how large it is. I started with 10 and have run out of one or two so far (up to November).
How do I get the temperature every day?
You can do this however works for you. Take the temperature at a set time every day and make a note of it somewhere (people often do this on the notes section of their phone or in a notebook they keep for their temperature blanket), or use a site with backdated temperatures.
I use a website, accuweather.com, that gives you the temperature for your area and you can go back and get the temperature for past dates so that you don't need to remember to track the temp daily. I use this in combination with good old paper.
You can choose the temperature at a particular time every day, such as midday, or the high or low temp, or the average. I chose the average because I didn't want the temperatures fluctuating too wildly. Whatever you choose, keep in mind how that fits in with your colour matching. Mine is for an average so I didn't need to mark extremely cold or hot temps.
Every time I sit down to work on my blanket I will go to accuweather, note down the temperatures on paper for the dates I need and what colour i'll need for each date. Then when I come back to the next week or month i've got a track of what date I got up to instead of counting rows.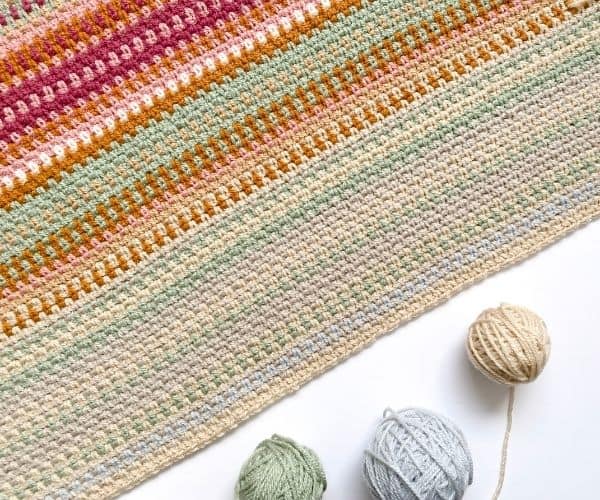 What is a good stitch for a temperature blanket?
Moss stitch, single crochet, granny stripes or squares and C2C are all great stitches. Ideally the stitch will be a short one, not like the double crochet for example, so that you're not adding unnecessary length to the blanket. They can get reeeally long!
How many chains do you need for a temperature blanket?
For nice proportions start with 100 chs if you're doing 1 row per day. If you're doing 1 row every 2 days like me, 70 has a nice finished ratio. Starting with too few chains will give you a very long and thin blanket, more chains will give you a closer to square finished blanket.
It's a good idea to make a gauge swatch in your chosen stitch so you can work out how long it will be for 365 rows, then choose your chain amount to give a width that you're happy with to match with the length.
I didn't want mine to be as long as it would have been for 365 rows which is why I decided to do 1 row per 2 days. This also made it much easier to keep up with. It's a big commitment after all!
UK temperature blanket colour chart
Below is the colour chart I used, using average UK temperatures, along with the yarn to match each temperature. Standard text is Paintbox, italic is Stylecraft. I've converted the temperatures into F for a US conversion, though if you live somewhere with a much hotter or colder climate than the UK you will likely want to shift your scale.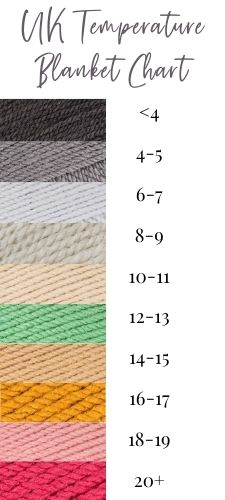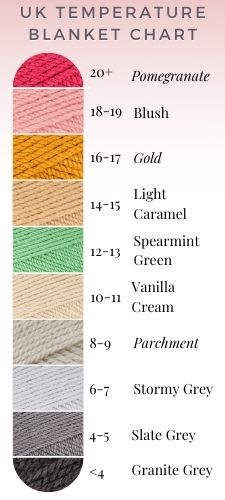 My Crochet Temperature Blanket Pattern
If you want to just get started without making any calculations, then you can find my exact pattern below.
We're using the moss stitch, which is a repeat of (sc, ch1, sk1), working a sc in every ch1 sp and vice versa.
Work 1 row every 2 days. You can either average the temperature of the 2 days, or choose one.
You'll need:
10 colours in aran/worsted weight yarn (you'll likely need to top up some of the colours later on)
5.5mm hook
scissors and needle to finish ends
Using the temperature for the first 2 days, choose your starting colour.
Chain 71, starting from the 2nd ch from the hook *sc, ch1, sk1 repeat * to the end of the row, finishing on sc (70)
With your next colour for the 3rd and 4th days:
Turn and ch1, sc, sc in every ch1 space and (ch1, sk1) over every sc, finishing on sc (70)
Repeat for every 2 days in the rest of year!

Crochet Temperature Blanket Tips
Here are a few tips i'll share after working on mine this year;
Weave in your ends as you go – I haven't done this truth be told, but I wish I did. I left them loose for months, kidding myself that I was leaving open the option of keeping them as fringe! So I had a big sitting of doing ends, which I hate. Ends feel like wasted or lost time to me, it doesn't even count as crochet, right? So after that I tried to keep up to date and it made the whole thing feel a lot calmer. Working on a project with ends everywhere is quite stressful to me!

Catch up every sunday – I started this way and it was really nice having a sunday evening catching up on the week with a mindless project. I didn't keep it up, but it's much nicer having just a few rows to do than having to drag out 5 different colours to cover the temperatures of a month. Especially when we had a yarn loving puppy on the loose…

Never get behind by more than one month – this rule I did stick to! So for example, i'd never let myself be in September with July dates still not done.

Add in extra rows for special dates – totally optional but a nice way to add memories into your blanket. I added a white row for our wedding day for example. It's nice to do for things like anniversaries, birthdays, etc. Some people even marked the start of the 2020 lockdown.

Keep a sample of yarn for each temperature – this has been so helpful for me! See below, I got it free in a magazine a long time back but you could easily make one with some card or paper and a hole punch.
Any other questions about planning your crochet temperature blanket? Drop a comment and i'll add the answer into this post. Still planning? Pin this post for later.
Need some more inspiration? Here are some other beautiful temperature blanket patterns: