These quick and easy face scrubbies or crochet face pads are made with the puff stitch for squishy absorbent cleansing. Use as eco friendly, sustainable skin care for yourself or as last minute gifts!
They're super durable and long lasting, I couldn't be without them now for my skincare routine or taking off makeup. I was throwing away so many disposable face wipes and pads that just really isn't good for old mother nature, and now I have so many of these that I no longer buy any.
What yarn is best for crochet face scrubbies?
Cotton yarn is ideal, DK or Aran is fine. Aran may be a little more padded and absorbent, which is perfect for using with a face wash in the bath or shower. DK is lighter and thinner, so better for using a toner or cleanser in your daily skincare routine.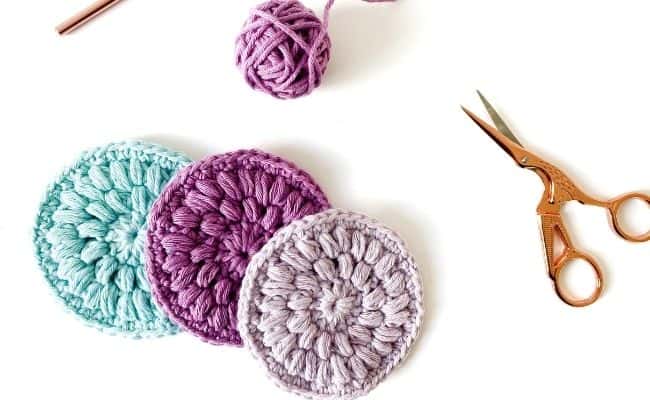 More Free Crochet Patterns
This post contains affiliate links, meaning I may make a commission if you purchase through a link, at no additional cost to you.
Puff Stitch Crochet Face Pads
What you'll need
DK Cotton yarn & 3.0mm hook or Aran Cotton yarn & 4.0mm hook
Scissors and needle for finishing
Notes
Starting chains do not count as a stitch
Stitch counts will be in brackets at the end of each row
Special Stitches
Puff Stitch: (yarn over, pull up a loop) repeat 3x until you have 7 loops on your hook. Yarn over and pull through all 7.
Puff Stitch Crochet Face Pads
Row 1: ch4, sl st into the 1st ch to form a loop. ch2, work 12 dcs into the center of the loop, sl st into the first dc (12)
Row 2: ch2, work a puff stitch and ch1 in each dc around, sl st into the first puff stitch (24 sts, 12 puff sts)
Row 3: ch2, work a puff stitch and ch1 in each st around including the ch1 spaces, sl st into the first puff stitch (48 sts, 24 puff sts)
Row 4: ch1, sc in each st, sl st (48)
Crochet face pads complete! I regularly put mine in the washing machine and they've held up very well, most have been in circulation for over a year without any disintegration. But, hand washing is probably better and recommended if you have time for that.
Happy making, i'd love to see your colours on IG @burgundyandblush