This autumnal pretty is the Honey Scarf, a crochet ripple scarf pattern that got its name from being started on our honeymoon a few months ago! Its a 6 row pattern repeat making beautiful lacy waves and textures, using just double and single crochet stitches.
Once you have the 6 rows down, the rest is easy for a mindless project with the colour changes to keep it fun.
This colour changing yarn is one i'd normally look longingly at rather than buy and use, so it's not my usual choice. But, it's beautiful, autumnal, and a nice change! The yarn inspired the pattern this time, as I thought it was perfect for a crochet wrap or shawl, but ended up with this crochet ripple scarf. My first time making tassels too.
These aren't my usual colours so it doesn't go with too much in my wardrobe. It reminds me of our wedding and honeymoon so i'll likely keep it for that sentimental reason, even if I don't wear it much. I love these neutral tones for people who suit warmer palettes!
This post contains affiliate links, meaning I may make a commission if you purchase through a link, at no additional cost to you.
More Free Crochet Patterns
You can find the ad-free PDF version below.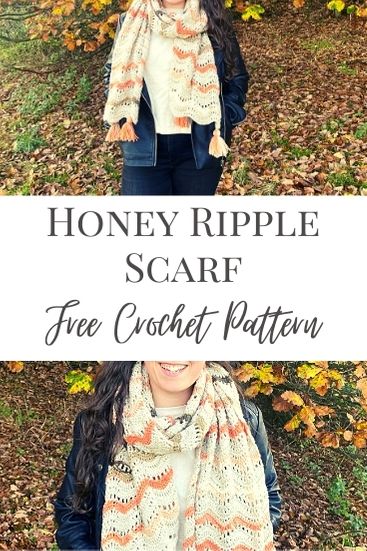 Crochet Ripple Scarf Pattern
What You'll Need
200g/646 yds base DK yarn and 100g/323 yds contrasting DK yarn
4.5mm hook
Scissors and needle for finishing
Yarn Recommendations
For my base colour I used Stylecraft Special DK in Parchment and Hayfield Spirit DK in Ember. Some good alternatives would be Sirdar Colourwheel or Lion Brand Mandala Wool Blend.
Notes
Starting chains do not count as a stitch
Stitch counts will be in brackets at the end of each row
Stitches are in US terms
Special Stitches
Single crochet in the 3rd loop: This stitch will push the loops backwards to give a braided look on the other side of your work when turned over, You can swap this for a single crochet in the back loop if you prefer.
When working in the 3rd loop, it is the loop below what you would see as the front loop. It is highlighted below, though the right image has the hook top to bottom for clearer demonstration. You will work your hook from bottom to top as usual.

Crochet Ripple Scarf Pattern
In main colour
Row 1: ch69, turn, sc in 2nd ch from hook and to the end, turn (68)
–Start of pattern repeat
In main colour
Row 2: ch2, (2dc in next 3 sts, *sk1, dc* repeat * 5x, sk1, 2dc in next 3 sts) repeat to the end of the row, turn (68)
Row 3: ch1, sc in the 3rd loop of each st, turn (68)
Row 4: Repeat Row 2 (68)
Row 5: ch2, *ch1, sk1, dc* repeat to the end of the row, turn (68)
In contrasting colour
Row 6: Repeat Row 2. Treat the ch spaces as a stitch, including the first ch1 at the start of the prev row (68)
Row 7: ch1, sc in each st, turn (68)
–End of pattern repeat
Repeat rows 2 to 7 x26, until there are 27 total repeats / 162 total rows.
Then add a repeat of rows 2 to 4, finishing with 28 repeats or 166 rows in total.
Optional: Make 4 tassels, one for each corner.
Crochet ripple scarf – finished!