Get ready for autumn, fall and Halloween with the Bibbity Bobbily Pumpkin crochet pattern! It's a traditional style of pumpkin made with the bobble stitch and comes in sizes small, medium and large, with an optional crochet stalk too.
They're super cute, beginner friendly and easily customizable for other sizes if you need a whole pumpkin patch! You can make each size with one 100g ball of yarn or less.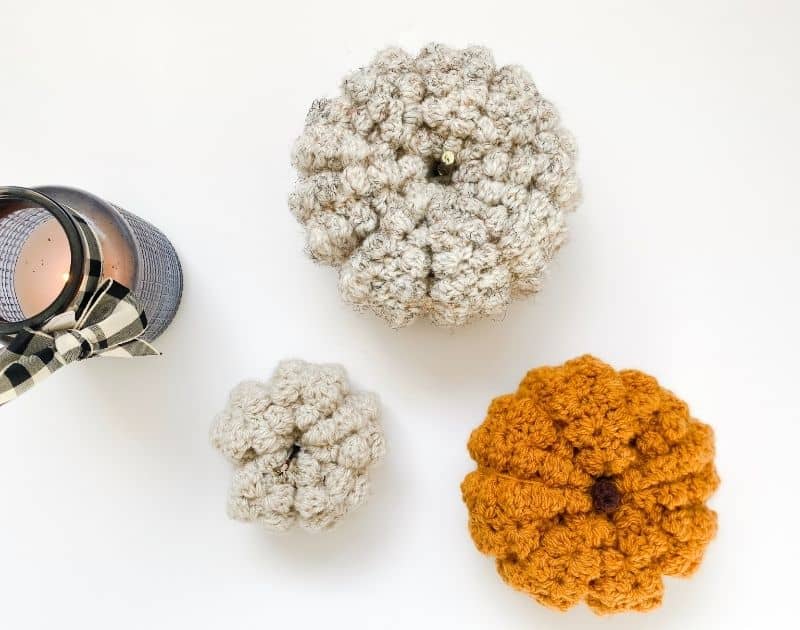 Make your home smell yummy with a cinnamon stick stalk, crochet one in a contrasting colour, or find a stick in the garden. My testers and I tried them all and I don't think I can choose a favourite!
This post contains affiliate links, meaning I may make a commission if you purchase through a link, at no additional cost to you.
More Free Crochet Patterns
The pattern for size medium is right here in this post, with all three sizes in the PDF pattern below. Too many WIPs right now? Pin this post for later!
Free Pumpkin Crochet Pattern
You will need:
50-100g or 107-214 yds aran/worsted yarn
Optional: stick to use as stalk, or contrasting yarn and smaller hook to crochet a stalk
Fibre fill or preferred stuffing material
5.5mm hooks
Scissors and needle for finishing
Stitch Abbreviations
Chain – ch
Slip Stitch – sl st
Stitch(es) – st(s)
Skip – sk
Half Double Crochet – hdc
Single crochet – sc
Special Stitches
Bobble Stitch:
Yarn over, insert hook into stitch and pull up a loop. Yarn over, pull through two.
Repeat in the same stitch/space until you have 6 loops on your hook.
Yarn over, pull through all 6 loops
Pattern Notes
The pattern for each size is written separately, with the assembly for all sizes following afterwards
Starting chains do not count as a stitch unless specified
Stitch counts will be in brackets at the end of each row
Pattern is in US terms
Size Guide
Small – approx 4″ wide
Medium – approx 6″ wide
Large – approx 8″ wide
Pumpkin Crochet Pattern
Row 1: ch24, hdc in 3rd ch from hook to the end, turn (22)
Row 2: ch2, *ch1, sk 1, bobble stitch* repeat * to end (22)
Row 3: ch2, hdc in each st to the end. This will be working in the top of each bobble stitch and the ch1 space between, turn (22)
Repeat rows 2 and 3 13 more times, until you have 14 repeats.
Pumpkin Assembly
With your work flat, fold in half to join Row 1 to your final row with bobbles facing out. Using a whip stitch or similar, sew the two ends together.
Using a needle and long tail, weave in and out of the top of your work, working in the last bobble stitch of your row all the way around. Pull tight and secure to close one end of the pumpkin. Repeat on the other side ready for stuffing, but don't pull closed. Leave a long tail.
With your choice of stuffing, fill your pumpkin leaving 1-2″ empty. Cinch the top closed, then add or remove stuffing as needed and secure.
With a needle and the yarn tail from the top of your pumpkin, line up the yarn with the side seam. Feed the needle back up through the centre of the pumpkin and pull tight to create a defined section. Repeat this step all the way round, leaving two bobble stitch rows between each section.
Use a stick of any kind to secure in the centre of the pumpkin, or follow the steps below to crochet a stalk.
Row 1: work 6 sc into a magic ring, sl st
Row 2: ch1, *2sc, sc* repeat * around, sl st
Row 3: ch1, sc in each st, sl st
Repeat row 3 until you reach your desired length.
Sew into the centre of the pumpkin.
Weave in any ends and finish!
Find all sizes of the pumpkin crochet pattern in the PDF versions below!