The Charlotte Blanket is an even moss stitch baby blanket pattern with 4 other stitches to try and a cute picot border. Sized approximate to a stroller or receiving blanket, it's a quick and straightforward pattern with video tutorials for the lesser known stitches, for any experienced beginner to try.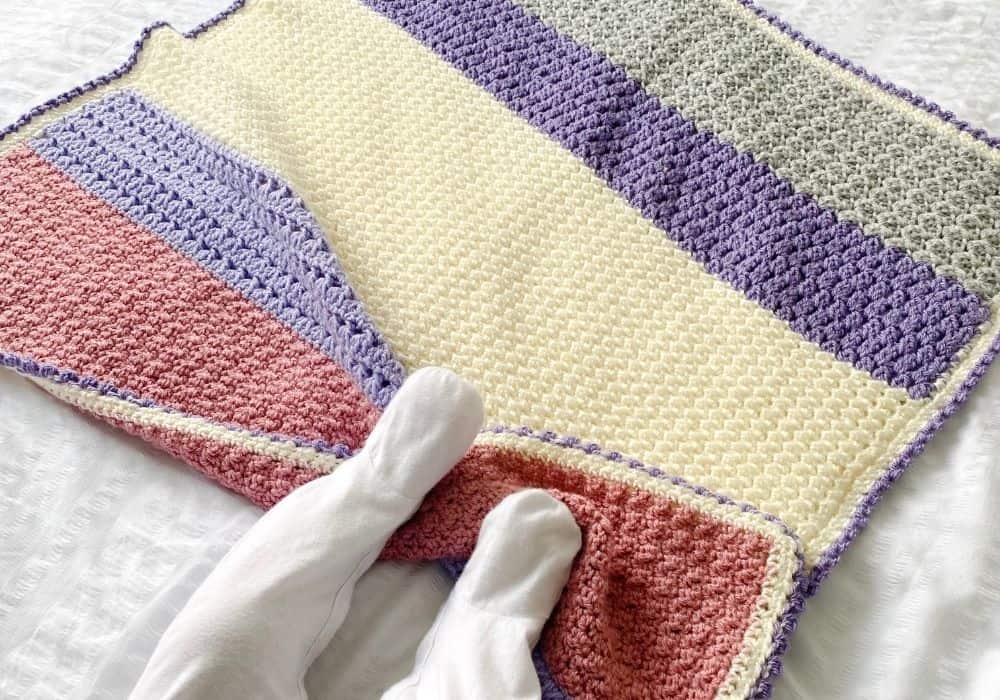 Using aran yarn and a 5.5mm hook keeps it cosy and snuggly, and with the quick stitches it's a really fast project for a blanket! I used Stylecraft special DK for mine, I love how soft it is and in so many colour options, while being super affordable.
This post contains affiliate links, meaning I may make a commission if you purchase through a link, at no additional cost to you.
More Free Crochet Patterns
You can find the ad-free downloadable PDF in your favourite pattern store below.
Even Moss Stitch Baby Blanket
What you'll need
5.5mm hook
Aran/worsted acrylic yarn
Scissors and needle for finishing
For the blocks, you will need aran/worsted acrylic yarn in the following quantities:
Colour A (pink): 80g / 258 yds
B (lilac): 60g / 323 yds
C (cream): 160g / 516 yds
D (purple): 50g / 161 yds
E (blue): 80g / 258 yds
Concentration level
Experienced beginner. Possibly some new stitches to use, but done in separate sections. Finished blanket will likely need blocking.
Stitch terms & abbreviations
Pattern is written in US terms.
Chain – ch
Slip Stitch – sl st
Stitch(es) – st(s)
Skip – sk
Single Crochet – sc
Double Crochet – dc
Half Double Crochet – hdc
Special Stitches
2dc cluster tutorial here
hdc3tog tutorial here
Gauge
In 4×4″: 13 rows of 14 sts using *sc, dc* repeat
Gauge is not so important for finishing the project, but may affect your yarn requirements.
Notes
Starting chs do not count as a stitch
Blanket is worked flat in rows, with a turn at the end of every row
To adjust the size for a bigger or smaller blanket, use an even stitch count
The pattern is written in sections assuming a colour change for each, though change colours wherever you like!
The finished blanket will likely require blocking to even out the different stitch tensions. If using acrylic yarn, I suggest wet blocking.

Even Moss Stitch Baby Blanket
Row 1: ch101, sc in the 2nd ch from hook, *dc, sc* repeat * to the end, turn (100)
Lemon Peel Section
Row 2: ch1, *sc, dc*, repeat * to the end, turn (100)
Rows 3 to 20: Repeat Row 2
Hdc3tog Section
Row 21: ch1, sc in each st, turn
Row 22: ch2, *ch1, hdc3tog*, repeat * to the end, ch1, dc in the last st, turn
Row 23: ch1, sc in each st and ch1 sp (including the first ch1 from Row 22), turn
Rows 24 to 31: Repeat Rows 22 and 23
Even Moss Section
Row 32: ch1, *sl st, hdc*, repeat * to the end, turn
Rows 33 to 75: repeat Row 32
Cluster Section
Row 76: ch2, *2 dc cluster, ch1, sk1*, repeat * until there are 2 sts left, 2dc cluster, dc, turn
Rows 77 to 82: Repeat Row 76, working the 2dc cluster sts in the ch1 sps
Sedge Section
Row 83: ch1, *sc, hdc, dc all in the same st, sk2* repeat * to the end, sc in last st, turn
Rows 84 to 98: Repeat Row 83
Border
Row 1: Right side facing you, join yarn to top right corner and work 1 sc in each st. At the corner, work sc, ch1, sc. Evenly work sc sts down the side of the blanket, into the last/first sts of each row. Aim for around 7 sc sts for every 2″. Repeat these steps for the bottom and the other side.
Row 2: ch2, hdc in each st, working hdc, ch1, hdc in each corner sp
Row 3: ch1, *(sl st, ch3, sl st), sk 1* repeat * around. Fasten off and weave in ends.
Pin this post to make the even moss stitch baby blanket later!