Here are 10 of my favourite crochet patterns for the kitchen. Hot cloths, bag holders, scrubbies and more, I love making things that are useful and functional – as well as pretty! It's always nice to make cute gifts for people, but there's something extra satisfying about making something that you're going to use every day I think. Hope you try one, let me know your favourite!
Waffle stitch pattern here for whatever you call it where you reside – oven mitt / hot pot holder / hot cloth / oven glove?! You can find it here.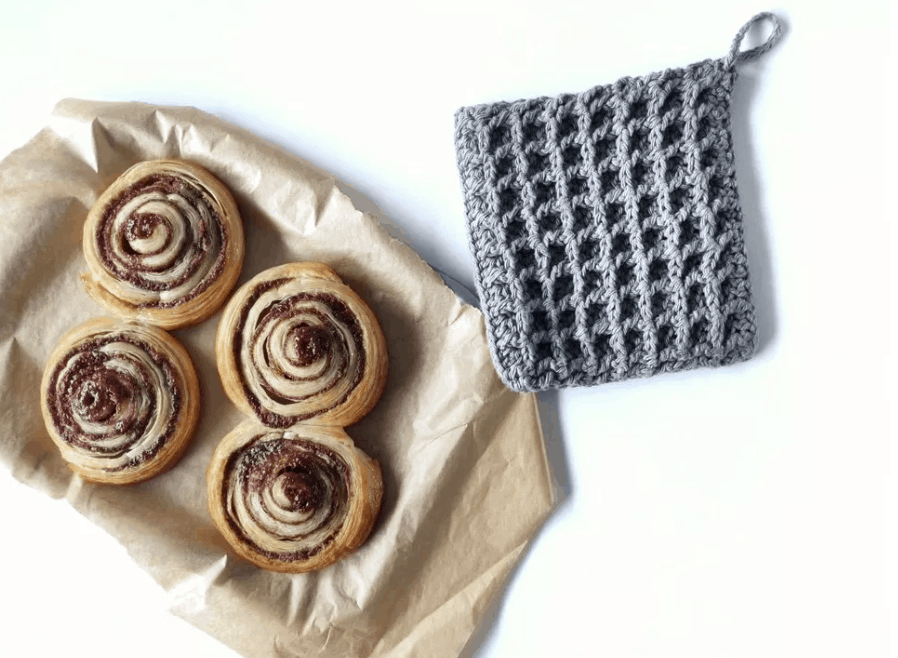 Kitchen Crochet Patterns
These from Red Heart are my absolutely favourite, I can't wait to make these to keep all the clutter neat and tidy.

I love this dishcloth from ekayg, the texture is gorgeous!
This pattern makes me want to throw my steamer out and go and buy one of these mops just so I can crochet a cover for it!

How cute is this from snappy tots? I am very matchy matchy so I love a good set!
Scrubby scrub scrub, I really need to try this textured yarn that Tilly has used!
Another scrubby pattern from Make and Do Crew, but look at the materials!
If this isn't the most gorgeous kitchen make you've ever seen then I need you to show me what is. Find more crochet patterns like this here.
Another beautiful dishcloth with great texture. I think with a lighter yarn this would make a lovely facecloth too.
Last but not least, isn't this cute for holding bags? I know plastic bags are reducing now which is ah-may-zing, but lots of people here in the UK at least still have lots of the reusable 'bag for life' type carriers, and what a cute way to store them. Now to remember to take them to the car…